Top Tips for Walking Your Dog in The Winter Months (UK Edition)
Dog walking is a big part of your daily life when you own a pet. It helps your animal best friend stay healthy and is extremely enjoyable for everyone involved. However, things change slightly when the temperature drops outside during the colder winter months, and we might need to tweak how we tend to our pooch.
How To Keep Your Dog Safe In The Colder Months
Get Them A Coat
Believe it or not, it's not true that dogs and cats can deal with the cold better because they have fur, especially if they go into water as this can be very hazardous to their health. Consider purchasing a coat specifically for your pet to keep them protected throughout the cold winter months.
You wouldn't go outside without a coat in freezing temperatures, so don't let your dog be caught short in the cold either.
Adapt The Way You Walk Your Dog
When the temperatures are freezing outside, exerting your dog can mean that when you go home and the temperature quickly increases, they may be susceptible to heatstroke.
Short-nosed dogs are most likely to suffer from heatstroke so avoid intense exercise during winter as much as possible.
Be Aware Of Hazards On Your Walk
When the temperatures drop to freezing, it can be easy to not notice lakes or large volumes of water that have frozen over. Many dogs have slipped into dangerous situations due to being unaware of these hazards.
Keep a close eye on your pet or try to avoid places that may be a health hazard to your pet in the winter. Looking after a dog in winter is increasingly important to prevent those unwanted vet trips.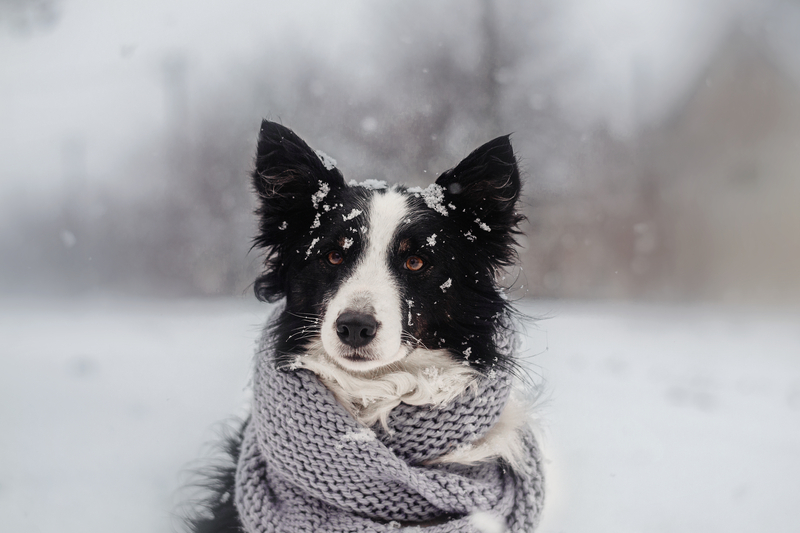 How To Keep Your Furry Friend Warm
Unlike their wolf ancestors, dogs don't possess the survival capabilities of keeping warm in freezing temperatures. Proper dog care means looking after your furry friend in all temperatures. You can keep them warm by following these tips.
Bedding
You can buy specific beds for winter which have additional padding, and some are even raised to keep your pet away from draughts.
If your dog must sleep outside for whatever reason, ensure their house is properly insulated and add additional blankets to protect them from the cold. If they can come in the house during winter, however, this is highly recommended.
Let Them Spend More Time Indoors
During warmer temperatures, we love to let our pooch run wild in the garden and have complete freedom to roam in and out.
However, during the winter, it might be best to consider keeping them inside a bit more than usual. This protects them from the cold and allows you to keep an eye on them too.
"Sleigh" Those Winter Walks!
If you and your furry friend are venturing out, first make sure they've got their coat on to protect them from the cold. Depending on if your pet has worn a coat before, it might be a battle at first to get them used to putting one on – but don't give up! If you can associate the coat with going for a walk, your dog will soon be enthusiastic about slipping it on.
To properly introduce your dog to the coat, place it on the ground and hype it up by adding a few of their favourite treats on top of it. This will make your dog investigate the coat and take an interest. Take it in slow steps, if your dog turns away or looks hesitant, revert to the previous step of causing a fuss of the coat yourself.
Keep The Lead On
If it's snowing heavily outside, it's best to keep a close eye on your dog by keeping them on their lead. Dogs can easily become disorientated in conditions that aren't familiar and this can sometimes cause them to get lost.
Consider Doggy Day Care
Depending on what your day entails, you might be too busy to fully give your dog the exercise it needs through proper dog walking. It can be tempting to relax when you come home after a long day's work and shut the front door on the freezing temperatures outside.
Here at Hunter's Lodge, based in Newport Pagnell, we take pride in making sure your dog is fully catered for. We offer a popular doggy day care centre for your furry friend that offers 9.5 acres of fun and exciting open spaces for them to experience.
Hunter's Lodge Doggy Day Care
Get in touch with us on 01604 870330 to find out more about the services we can offer your furry friend or check out our website for more information.