Doggy Day Care For Milton Keynes and Northampton
Brand New Doggy Day Care Centre – Goldington Milton Keynes
There are many options for doggy day Care these days, dog walkers, pop-in services etc.
With the huge increase in Dog Theft in the UK, be safe in the knowledge that your dog is with someone all day and not just taken out for a short period of time, and then left unattended.
We are unique in the area for being able to offer a huge 9.5 acre completely secure outdoor space and also indoor play areas.
Our existing customers have seen the amazing benefits day care gives to their dogs. Better socialisation, better trained, happier all round.
When you've had a hard day at work and commuting etc, the comfort of knowing your dog is happy, secure and not needing another walk when you get home can be very reassuring.
For less than the price of an average 2-hour charge from a dog walker, your dog can be with us for the whole day.
From £25 (inc. VAT) per Day without collection or £35 (inc. VAT) with Collection and Drop off in surrounding areas Under 10 mile Radius (Please Call us for a quote if you are further away).
Recommend a friend local to you and on the same days, we may be able to offer a discount!
Discounts are also available for 'Whole Week Day Care bookings'.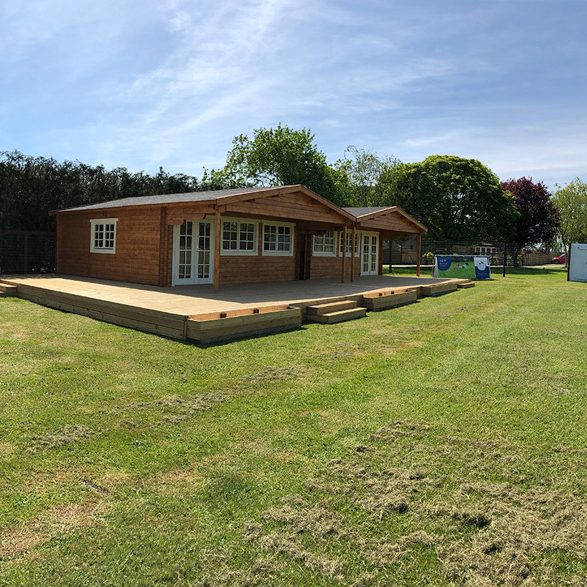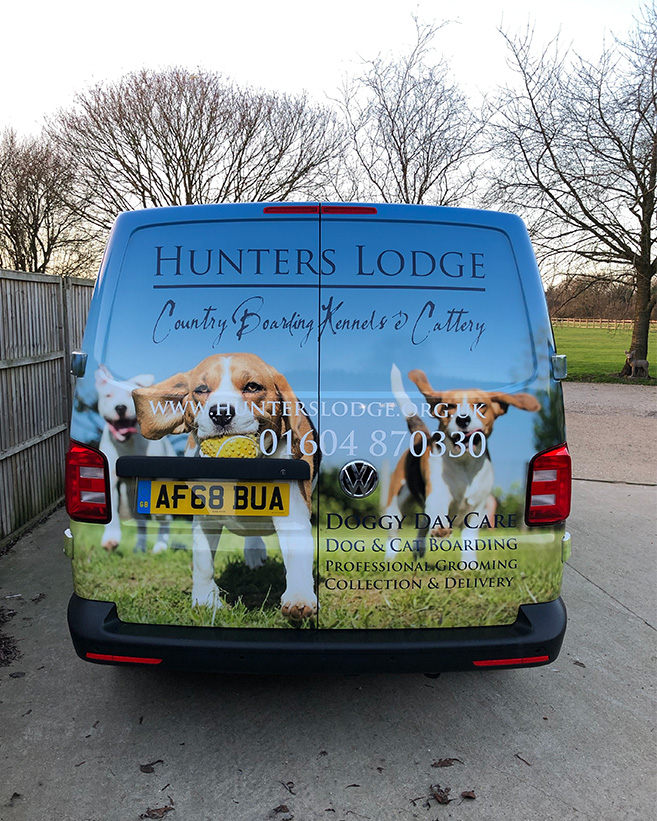 Huge 9.5 acres of Pasture land.
6 foot High Secure Fencing.
Heated Scandinavian Log Cabins for rest and socialisation.
Paddling pools and Agility.
Constant supervision.
Fully monitored CCTV.
Indoor Play Barn Coming soon.
Hire our Paddock at weekends £10

(inc. VAT)

per hour or £7.50

(inc. VAT)

per half hour. Please call to book.
Hector loves the Hunter's Lodge and we couldn't be happier with the entire team and beautiful surroundings.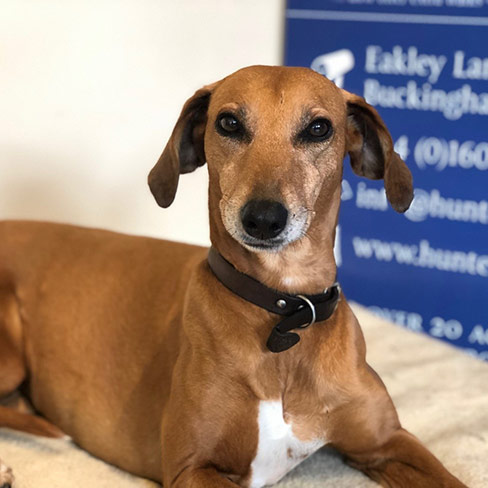 Solo or Small Groups Dog Day Care Service
Unlike other Day Care Establishments across the Northampton and Milton Keynes area, we can ALSO cater for dogs who prefer smaller groups or who need to be on their own. Your dog will be kennelled for part of the day and not mixed with the main groups, but will have the chance to use all of the facilities on an individual basis, or have a one to one walk in the woods.
If you are using us for the first time, we will need to make sure that your dog is suitable for Day Care, both for your own dogs wellbeing and for our other guests. We will ask you to come and meet us and book a trial session. If this goes well, then your dog will be able to mix with our main groups. If for some reason this doesn't go well and your dog does not enjoy it with the main groups, we can still look after them on an individual basis.
Current opening hours will be from Monday to Friday 7.30am – 17.30.
Collection & Delivery in our Heated and Air conditioned vehicles.
Dog Day Care Prices
Full-Day Care £25 (inc. VAT)
With Collection and Drop Off £35 (inc. VAT)
Weekend Paddock hire £10 (inc. VAT) per hour or £7.50 (inc. VAT) per half hour.